I've been working with Russ more than a year and I can't say enough about his professionalism and knowledge. I started working with him after months of research and talking to so many different big and small dental consulting companies and consultants and my previous experience of working with bigger company with no results. My dental office was plateaued and I didn't think we have any room to grow, but he promised a monthly growth and delivered it within 6 months. I trust and respect his opinions so much that I ask him questions about all aspects of running my practice. Now even though I feel that my staff and office is energized, I can't stop working with him, I still see result from his advise and recommend him to anybody looking for a competent and knowledgeable consultant.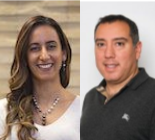 Drs. Mina Dadkhah & Alireza Sharafi
University of Southern California School of Dentistry
Dental Consulting Experts, The Ledbetter Group, Inc.
Virginia Client Testimonials
Filter Testimonials by Practice Location:
Filter Testimonials by Dental School:
Serving dentists in cities and small towns throughout the Southeast and Virginia, including Norfolk, Richmond, Roanoke, Charlottesville, Alexandria and surrounding areas.